29 May 2023
Our 10 favourite hideaway beaches in Cork
In Cork, we are very lucky to have so many lovely beaches for walking, swimming and water sports.
But when the weather gets hot, many of us head for the tried and trusted popular beaches and then give out when we get stuck in tailbacks and find packed beaches when we arrive.
Cork has huge coastline, 1,094 km and some of the most wonderful beaches in the country, dare we say in Europe, Silver strand must be one of the nicest beaches in the world.
We asked the staff in Synergy Credit Union, what is your favourite hideaway beach and they picked out 10 for you to visit over the summer.
Most of these can be done in a day trip from our three offices in Cork City, Fermoy or Watergrasshill. See our website here. 
If you are thinking of upgrading your car this summer or just buying your first one to get you to some of these beaches , please take a look at our Car Loan Calculator by clicking here.
Make sure when you and your family are on the beach to follow all water safety guidelines - please see Irish Water Safety Guidelines and their website here for tips and guidelines on water safety.
1. Ballynamona Beach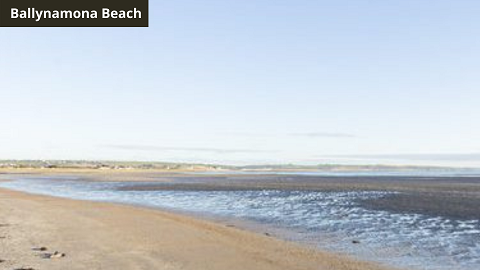 Quiet, Easy parking, Great views, Great for a walk Ballynamona beach is a lovely beach located in Shanagarry, County Cork. This quiet beach is popular for bird watching, walking, relaxing. Visited by locals and tourists, this beach is less crowded than the other nearby beaches. This is a lovely beach for bringing the doggie for a walk …remember to bring a bag and scoop up the poop.
2. Chimney Cove
Chimney Cove is a small beach near Barleycove. It's around 0.26km in length, which is very small, but it is stunning. It is situated in the sheltered bay between the Mizen Head and Lyroe peninsula, the walkway to reach this beach has been cleared in recent years. Worth a visit for a quite relaxing place to swim and picnic.
3. Silver Strand on Sherkin
We are not going to say a whole lot about this beach, but you could make an ad for Lilt here …… its totally tropical. It is on Sherkin Island, and you take a ferry from Baltimore and after a relaxing swim you can explore the island. It is a must visit this summer.
4. White Bay Beach
This a safe for swimming and offers an amazing views of the yachts, boats, and tankers passing in the distance as it's near the entrance to Cork port. To access the beach, you need to park up at the Car Park and walk down a long lane to the beach. There is a long steep walk up and down from the parking park. Do not forget to check the tides, as the beach gets very small at high tide.
5. Shelly Beach
Another beach not far from Barleycove and a few miles east of Mizen head. A secret beach that is favoured by the locals. Shelly Beach … no prizes for guessing how it got its name. It is a real explorers beach as you cannot drive there - it's only accessible on foot down boreens and over the fields. But it is a beautiful beach and well worth the effort to get there ...plus you also get to find out why its called Shelly beach if you have not already guessed.
6. Sands Cove, Co Cork
About 10km from Clonakilty , this is a small beach that is perfect for a quite swim. With stunning views. It was listed in the Independents 2017 " Ireland's Top Ten secret beaches". It is reached by following the lane way just after Dunowen House. This is the perfect hideaway beach to bring a picnic and relax with stunning views. Some great places to stop in Clonakilty on the way to stock up on the picnic nibbles.
7. Ballydonegan Beach - Allihies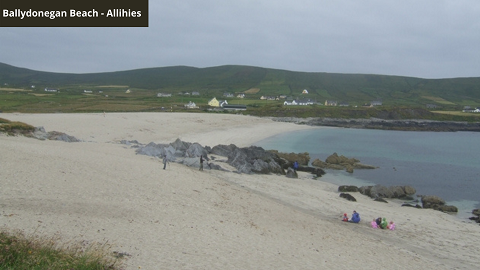 This is a stunning beach in a stunning area. It is a great swimming beach with stunning views across the bay. Allihies is just up the road for refreshments and that 99 on a sunny day. The unusual makeup of the sand goes back to the mining history of this area. With fantastic mountain scenery and a beautiful unspoilt bay, a visit to this jewel on the Beara Peninsula is a must visit this summer. A two and half hour drive from Cork, it is an early morning drive or think about staying in the area for a night to see the rest of this peninsula or take a trip on the cable car to Dursey Island.
8. Ballyrisode Beach
It is situated about 11km west from Schull and is not far from the renowned beach Barleycove which is about 15 minutes away. This is a much more secluded beach which is a lot smaller and facing east and if you are lucky, you might have the whole beach to yourself. Ballyrisode consists of two beaches, one small and very sheltered and the other is more open, so bring the hurleys and football for a game with the kids after your swim.
9. Tragumna Beach
Tragumna Beach is a small scenic beach located in Skibbereen, County Cork. This blue flag beach is , approximately 6km from Skibbereen. It is a small sandy beach and is backed by marsh land and a small lake called Lough Abisdeally. There are toilet and parking facilities. Tragumna is a lovely beach for families of all ages and is about an hour and a half drive from Cork city. Relax and watch the swimmers head out to the rocky island in the cove. Lough Hyne is very close and well worth the trip if have time, another unique place in West Cork.
10. Duneen Beach, Clonakilty
Duneen strand is a small, sheltered beach situated close to Inchydoney and very close to Dunmore House. It is about an hours drive from Cork City and 15 minutes from Clonakilty . It is small and secluded and there is a lovely walk from Dunmore House to the beach, this will take you about 20 minutes or longer if you are stopping to enjoy the incredible views across Clonakility bay. Another perfect beach for that relaxing picnic and Clonakility has ample foodie shops for your picnic supplies.
Back to News