29 May 2023
9 Great Beaches Not Far From Fermoy
We have compiled a short list of beaches not too far away from Fermoy for you to go and explore.
Remember every €10 spent locally on Irish products and services generates about €40 of onward benefit to the local community. So stay local as much as possible !!
If you need help to finance your holiday in Ireland or abroad , don't use the high cost Credit Card - Plan and Budget with a Credit Union Loan - Check out our Holiday Loan Calculator Here
1. Redbarn Beach
This beach is located on 5km long stretch of coastline which runs to the south west from Youghal town. It has a quality hotel where you can always slip in for a cup of coffee after a long walk or swim. Easy to find a quite spot to chill with kids or bring the dog for a walk as the beach is so long. Newish caravan park and camper area beside the Hotel.
2. Garryvoe
This beach is located just off the road from Ladysbridge to Shanagarry. The beach has a public car park, toilet facilities and wheelchair access is provided. There are lifeguards during the summer season and is another great beach for a safe swim. There is often a vendor or two selling chips and ice-cream in the car park. Shop and hotel close by also.
3. Inchydoney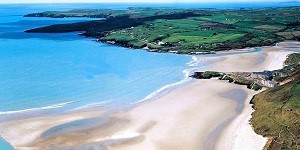 This beach is just over the hour but we included it because it is a really nice beach and has good surfing, lifeguards and great swimming. It is a lovely sandy beach to chill out on or bring the dog for a walk. Good parking with easy access to the beach. There are picnic tables at the top of the beach and a very luxurious spa hotel.
4. Roberts Cove
This cove beach is one of the most scenic bays near Cork city and about 10 miles east of Kinsale. It is quite a small beach and if the weather is good will fill up quickly. There is a great cliff walk to the west of the beach. There is a small pub close by that serves tea and other refreshments.
5. Fountainstown
This beach is a traditional seaside resort. It has impressive views of Ringabella and Roche's Point. The beach can be pebbly or sandy, depending on the tides. It will have a lifeguard this season.
6. Garretstown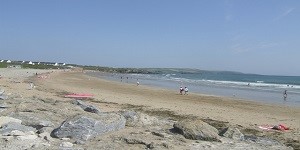 This beach is located within a short distance of Ballinspittle village. Facilities include a car park and toilets. There is also a pitch and putt course nearby. There is a surf school at the beach providing lessons and equipment hire for surfing, body boarding and stand up paddle boarding. It can be accessed via a ramp and steps. This a fantastic beach at anytime of year.
7. Ardnahinch
This beach is located in a wide bay with views to Ballycotton and the Island lighthouse. During low tide it is an expansive beach which is ideal for swimming, walking and other recreational activities, however at high tide there is only a thin strip of sand.
8. Rocky Bay
This beach is located close to Carrigaline. It is a sandy beach and extremely popular with families in the summer. It is about 300m in length. It is a very popular beach all year round. The beach is accessible via a narrow entrance from a local road. There is very little parking, so the area around the beach can get very crowded, something to think about on really summery days.
9. Ballyquin Beach
This beach is located about 4km outside Ardmore in County Waterford. The beach is very popular with visitors in the summer months. It is a very open beach with little shelter so a wind break is a good idea on breezy sunny days. Loads of rock pools for kids to explore the marine life and a lovely beach to go for a walk on.
Green Flag: The aim of the Green Coast Award is to recognise beaches of high environmental quality. To achieve the award, beaches must have excellent water quality and have effective and appropriate management to ensure the protection of the natural environment.
List of Green Flag Beaches in Cork :
Ardnahinch
Shanagarry
Red Strand
Ballynamona Beach
Inch Strand
Ring
Oysterhaven
Ballyrisode
Galley Cove
Cadogan's Strand
Garnish Beach
Lehanmore
Dooneen Pier
Fountainstown Beach
Inchadoney East
Rocky Bay
Sherkin Strand
Silver Strand Beach.
Blue Flag: The Blue Flag is one of the world's most recognised eco-labels. Beaches and marinas that achieve this accolade must comply with a specific set of criteria relating to water quality, information provision, environmental education, safety and beach management. At beaches the bathing water must comply with the excellent standard in accordance with the 2006 EU Bathing Water Directive.
List of Blue Flag Beaches Cork :
Barley Cove,
Fountainstown,
Garrylucas White Strand
Inchydoney East Beach
Inchydoney West Beach
Owenahincha Little Island Strand
Redbarn
Tragumna
Youghal Claycastle
Youghal Front Strand.
Water Safety Tips
Always try and swim on beaches or at locations where lifeguards are on duty.
Never swim alone.
Don't swim just after eating
Never swim in the dark, or when you are hot or tired
Avoid swimming in strange places
Never swim out to sea after drifting objects
Don't stay in the water too long
Never swim out to sea
Always swim parallel and close to the shore
Obey lifeguards and swim between lifeguard flags
Exercise caution when using inflatable toys
Pay attention to signs on the beach
Never encourage others or make them take risks in the water
Those going sailing or using other water craft must always wear a life-jacket or buoyancy aids.
Back to News